What is Cosmetic Dentistry?, – A natural smile is triggered by a conscious effort of expressing satisfaction, happiness and a way to start a communication. Everyone is concerned about his or her facial appearance and is usually controlled by the muscles that provide movement of the teeth. Through cosmetic dentistry, the appearance of the mouth can be altered to more closely matching the person's subjective concept of what is visually aesthetic. Nice and beautiful looking teeth is now made possible through cosmetic dentistry which further enhances one's appearance once a person tries to make perfect smile. The method of cosmetic dentistry is now very much in demand because treatment options can be tailored and affordable.
Aesthetic dental treatment options:
Tooth Whitening and Types of Bleaching
This is the lightening or brightening discolored, stained teeth from 4 to 9 shades lighter.- In-Office bleaching. One dental visit procedure through a laser device that could achieve up to 9 shades lighter from the current teeth shade.- At-home bleaching. – This usually a one-week procedure. First dental visit is for the preparation of the teeth for bleaching. Bleaching material was sent home for nightly application of the bleaching material during sleep. Shade enhancement could be up to 4 shades lighter. Patients need a second clinic visit for check-up.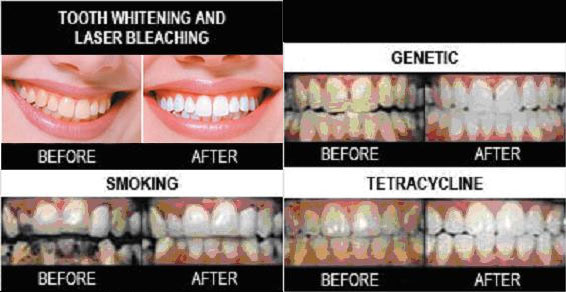 Bonding
This is a procedure of improving the appearance of chipped, broken, stained, cracked, and have spaces in between teeth using tooth colored bonding and composite resin materials. This is a one dental visit procedure.
Veneers (laminates) Porcelain
This is a custom made type of facing tooth contoured like on front of the teeth surface. This is indicated to improve tooth shape, worn tooth, for permanent whitening of discolored teeth that do not respond well to bleaching procedures and also for spaces/gaps closure in between teeth. Advantage is a very minimal facial tooth reduction is required. Porcelain materials are best used to simulate natural looking teeth.
Enamel Shaping
This involves modification of teeth to improve their appearance by removal or contouring of enamel. This is a quickstep procedure usually combined with bonding and immediate results can be seen.
Braces – Orthodontics
Crooked teeth need to be aligned to correct bad bite (malocclusion) for function and aesthetic. Adults can also enjoy this treatment but best results can be achieved at early detection and correction in children.
Interested to know more about the service?
Schedule a visit now!